Group Introduction
Global leader in metal recycling and environmental protection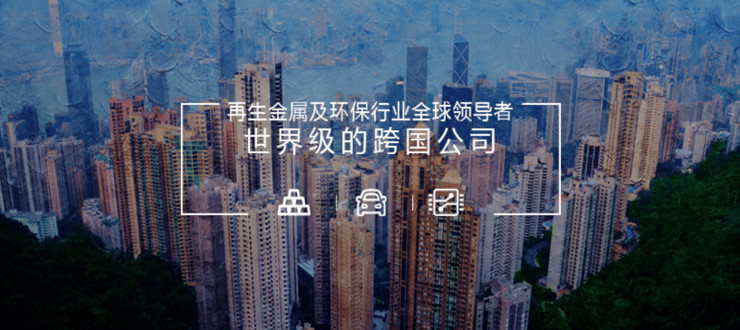 Chiho Environmental Group Limited (hereafter referred to as "CEG*) (00976 HK) is China's largest and one of the largest publically listed global scrap metal recycling companies with extensive operations in the recycling of ferrous and non-ferrous metals scraps, end-of-life vehicles, electronic scraps and the production of secondary aluminum ingots from aluminum scraps. Our geographical presence across Asia, Europe and North America consists of more than 200 processing plants and yard operations.
In 2015, USUM Investment Group became the controlling shareholder of CG. USUM is China's leading conglomerate across the sectors of recycling, real estate, healthcare, investment and financing. Under the guidance and the strong capital support of USUM, Chiho has entered into a new chapter to develop a global vertical supply chain.
At the end of 2016, Chiho completed its acquisition of Scholz Holding GmbH ("Scholz"), one of the world's largest mixed metal recyclers with advanced end-of-life vehicle processing capabilities. With over a century of history in scrap metal recycling, Scholz together with its subsidiary Liberty Iron & Metal in the United States, own in house advanced technologies for Chiho to become one of a few recyclers in the world capable of handling and recycling a diverse range of materials.
Employing the "Urban Mining" concept to recycle reusable resources, Chiho aims to reduce our impact on the environment, reliance on natural resources and our carbon footprint.
In 2021, the Group processed and sold 4.3 million tonnes of recycled products, which reduced carbon emissions by about 7.8 million tons after equivalent conversion, doing its part in creating a sustainable economy.

Vision:
Becoming a global circual economy solution partner.
Mission:
To be a global market leader in resources recycling and environmental protection, earning a quality return to shareholders through the provision of quality products and services, by a group of motivated and diversified staff force.
We are committed to building a long-term and win-win partnership with our customers including suppliers.

We provide a safe workplace and career development opportunities for our employees.

We are devoted to achieving a quality, stable and continuous return for our shareholders.

We meet our corporate social responsibility by making continuous contributions to social well-being and environmental protection.
Global Footprint
The Group has an international business footprint covering three continents including Europe, Asia and North America. The Group has developed strong international sales and operation network, covering China, Hong Kong SAR, Malaysia,Thailand, India, Germany, Poland, Austria, Czech Republic, Romania, Slovenia, Balkans countries and North America (including Mexico).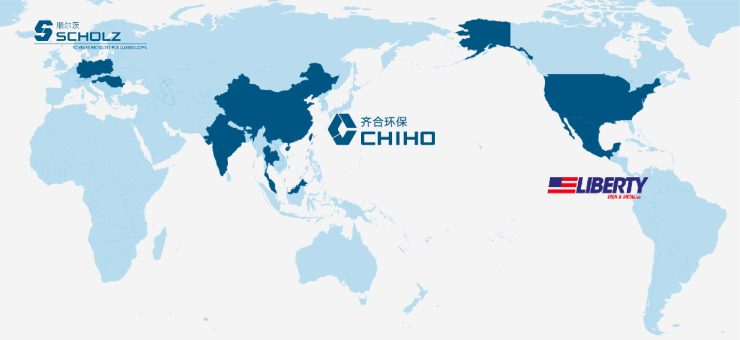 November 2021

Chiho Tiande and its its sister company Scholz jointly invest 243 million RMB, approximately 32 million Euro, mainly financed through internal resources, to build a 100 acres new recycling yard in the Chinese city of Taizhou, Zhejiang Province. The joint project under the listed parent company Chiho Environmental Group is going to recycle scrap, ELV and EV batteries, and to refurbish EV batteries and prepare them for a second life.

September 2020

Chiho Group entered into a Cooperation Agreement with Hongqiao Group to form a joint venture company to jointly develop a recycling industrial park project in Binzhou City, Shandong Province, China, with an expectation to recycle more than 200,000 tonnes of aluminium and 50,000 ELV per annum.

July 2020

Commencement of operation of joint venture with Hidaka Yookoo Enterprises Co. Limited and Suzuki Shokai Co. Limited in Thailand.

November 2019

Commencement of operation of joint venture with CMR in India.

April 2019

Commencement of operation of joint venture with Hing Hup Group in Malaysia.

April 2019

Yantai Liheng Environmental Protection Technology Co., Ltd, an indirect non-wholly owned subsidiary of Chiho Environmental Group Limited, was included in the list of enterprises that meet the "Regulations on the Comprehensive Utilization of Waste Mineral Oils" (second batch).

January 2018

Yantai Scrap oil business commenced full operation.

June 2017

The name of the Company has been changed from "Chiho-Tiande Group Limited" to "Chiho Environmental Group Limited".

December 2016

Completed the acquisition of Scholz Holding GmbH.

May 2016

Been shortlisted as a constituent of the Morgan Stanley Capital International ("MSCI") China Small Cap Index.

March 2016

Completed the acquisition of the entire equity interest in Dalian New Green Recycle & Resources Corporation (DNG). DNG is the only approved recycle processing enterprise in Changxing Island Harbor Industrial Zone in Dalian, the PRC.

January 2016

Completed the acquisition of Yantai Liheng Environmental Protection Technology Co., Ltd.

May 2015

The Second Subscription was completed and USUM Investment Group Hong Kong Limited subscribed 253 million new Shares.

April 2015

The First Subscription was completed and USUM Investment Group Hong Kong Limited subscribed 203.9 million new Shares and became the single largest shareholder.

September 2011

Set up a subsidiary in Yuen Long, Hong Kong, and set foot in electronic waste disposal.

September 2011

The group share enters Hong Kong Hang Seng Small and Medium-Sized Enterprises Index and Hong Kong Hang Seng Industry Index.

September 2010

Set up joint venture companies in Shanghai and Hong Kong, set foot in domestic steel scrap recycling and processing field.

July 2010

The group commenced trading successfully on the Main Board of The Stock Exchange of Hong Kong Limited (HKEx), issued 0.25 billion new shares, and raised 0.6 billion Hong Kong dollars, with the stock code being 00976.

January 2009

Commenced foundry business for copper rods and wires Production capacity of Taizhou facility expanded to 527,242 tonnes.

January 2008

Commenced trading business. Production capacity of Taizhou facility expanded to 380,000 tonnes.

January 2000

Commenced its business of recycling, reuse and processing of mixed metal scrap in Taizhou.

January 1995

Started to import mixed metal scrap from overseas, mostly from US or Europe, and to process them into recycled metal.